Paradox Interactive have revealed that Vampire: The Masquerade – Bloodlines 2 has been delayed and will no longer launch in 2021. The CEO wrote in the Year-End Report for 2020 that "the ongoing Corona pandemic has had a mixed effect on our business… (which) affects the development of Vampire: The Masquerade – Bloodlines 2".
Paradox also announced that they have removed the original development studio Hardsuit Labs, who will no longer be working on the title. Development of Bloodlines 2 has now passed to an unannounced team.
The team also shared this information in a development update on the official Bloodlines 2 website, which gave some more details on this delay. The team announced that they will no longer be taking pre-orders for the time being, as the new release date is not clear at this time.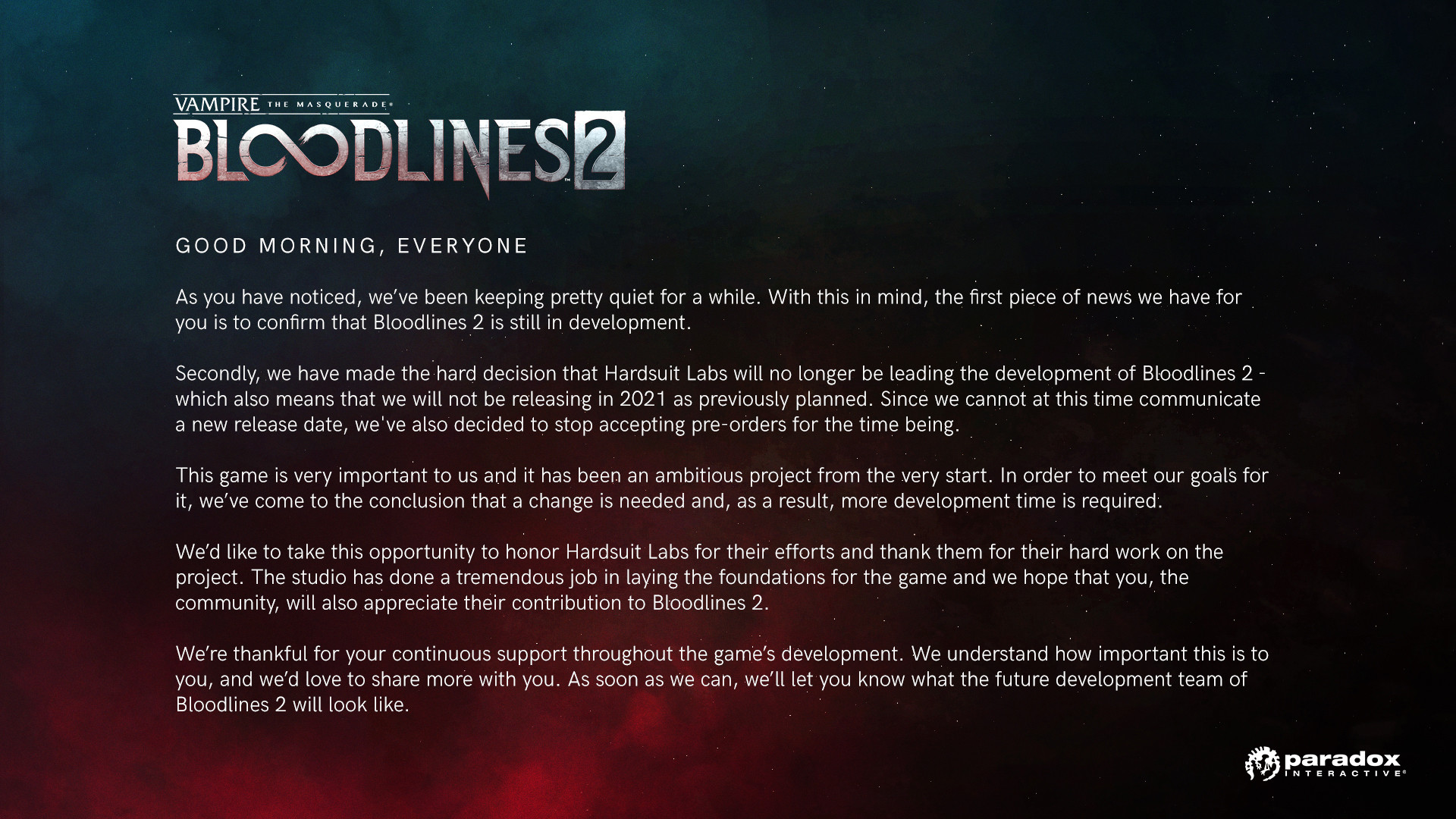 They have also confirmed that they will share details regarding the new development team as soon as they can. We will keep you up to date on that when we hear more.
This is not the first trouble that Bloodlines 2 has encountered during development. Last year, Paradox delayed the game multiple times from it's original launch date of Q1 2020. They eventually pushed it to 2021 in an update released in August 2020. Despite the history of troubled development, the statement seems to indicate that a new team will be continuing with development of the current game, rather than starting over.
Are you surprised by Vampire: The Masquerade – Bloodlines 2 getting delayed? Does this lengthy delay have you worried? Let us know over on our new Discord, where you can join our growing community! You can find more from our team below:
Characters We Want in Battlefront 3|Is Xbox the Home of Indie Gaming for 2021?|Best Games for Couples on Xbox
Stay tuned to Generation Xbox for all the latest gaming news!